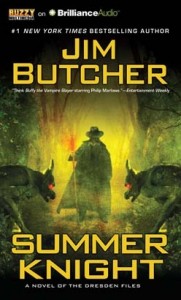 Summer Knight Audio Book
Book 4 Of The Dresden Files
Standard CD Format (will play on any cd player)
10 CD's – Unabridged
Written By Jim Butcher
Read By James Marsters (Spike from Buffy & Angel)
ISBN 13 978-1480581197
Harry Blackstone Copperfield Dresden is a very powerful wizard and a dedicated private eye. He is also a wise cracking trouble magnet.
Fueled by a tempest of guilt, sleep deprivation, malnutrition, bad temper and frankly awful personal grooming. Harry is hurtling toward oblivion. According to Harry that is nobody's business but his own.
The Winter Queen of Faerie manipulates him into accepting a case to solve a murder and stop a war between the courts of Summer and Winter that could have literally earth shattering consequences. His own soul is up for grabs. Dresden must dig deep to discover that at time a willingness to accept a little help from your friends, be they a cub pack of werewolves, old loves in sheep's clothing, or a battalion of pizza loving dewdrop fairies, is a very good thing.